Fast, elegant and cutting-edge
Around the world in four luxury boats.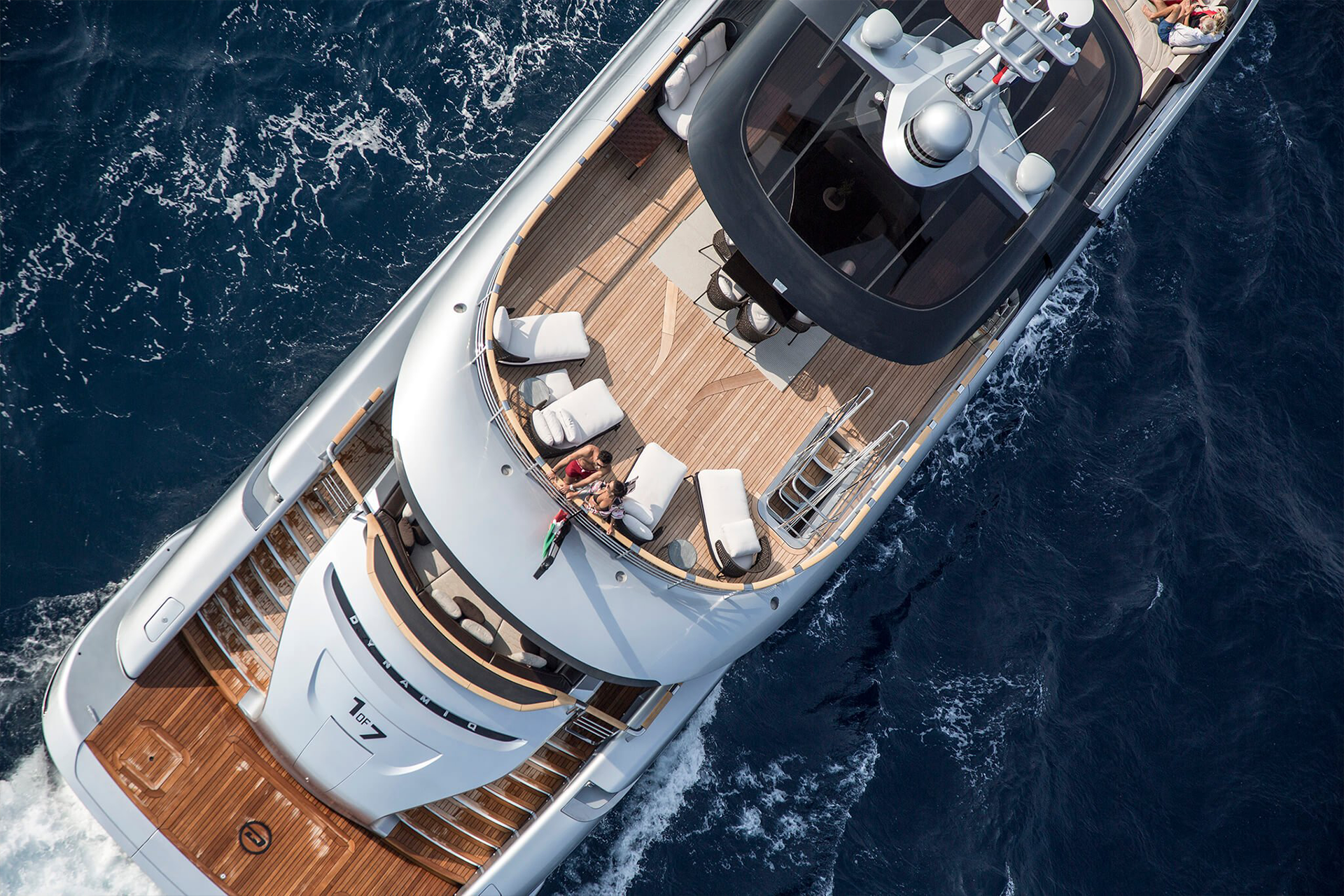 Why not continue a beautiful walk along Amsterdam's canals on the water boarding a boat and enjoying the picturesque landscape of Holland. The "Jules Verne," an 80-meter-long exclusive event barge for distinguished occasions, whose interior we were commissioned to design. From the elegant roofline to the upper deck, which transitions into a large outdoor staircase, the boat is equipped with high-quality wood paneling. Thanks to the lateral panorama glazing, passengers can enjoy Holland's gently passing landscape. A visit to the bridge is spectacular; in order to fit under the low Dutch bridges, the solid, dark block of glass can be lowered onto the bow.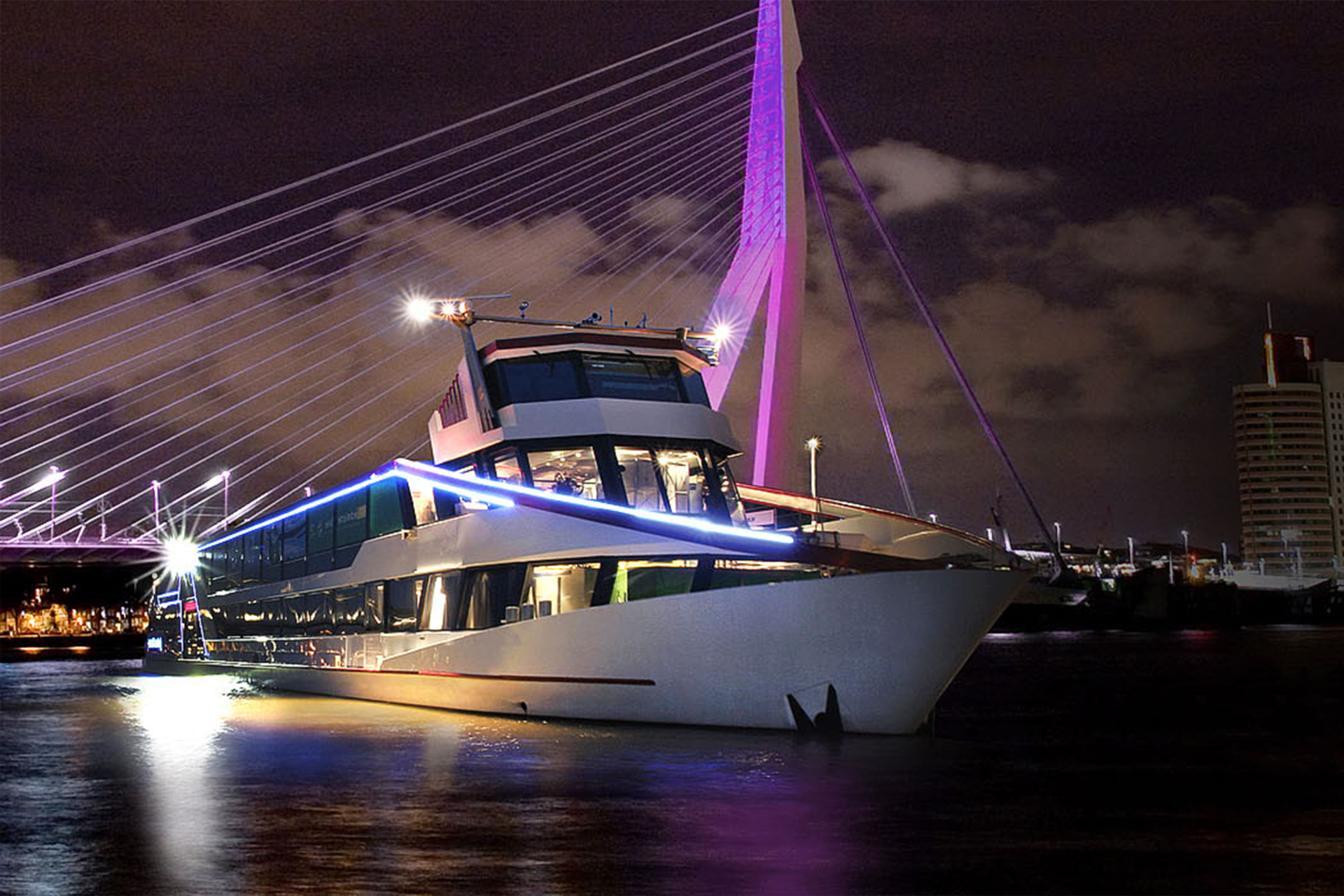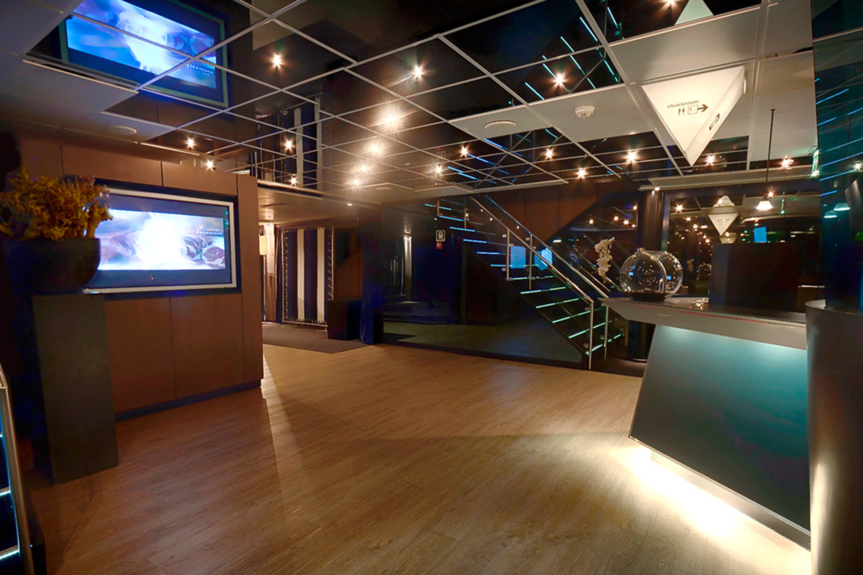 However, the exclusive barge is simply to massive to leave urban waters and embark on adventures on the open sea. One might be best off on the deck of a catamaran like the "Royal Falcon 135", which we created for the Royal Falcon Fleet from Singapore. The client envisioned a "spaceship on the water" – and ended up with a yacht design that truly broke the mould. The boat offers the choice between four decks, equipped with various spacious dining and lounge areas as well as exclusively cabins in luxurious and timeless ambiance. The upper sundeck is the perfect place to finish off the day in the Jacuzzi, at the bar or in a sun lounge granting a perfect view of the beautiful southern coast of France.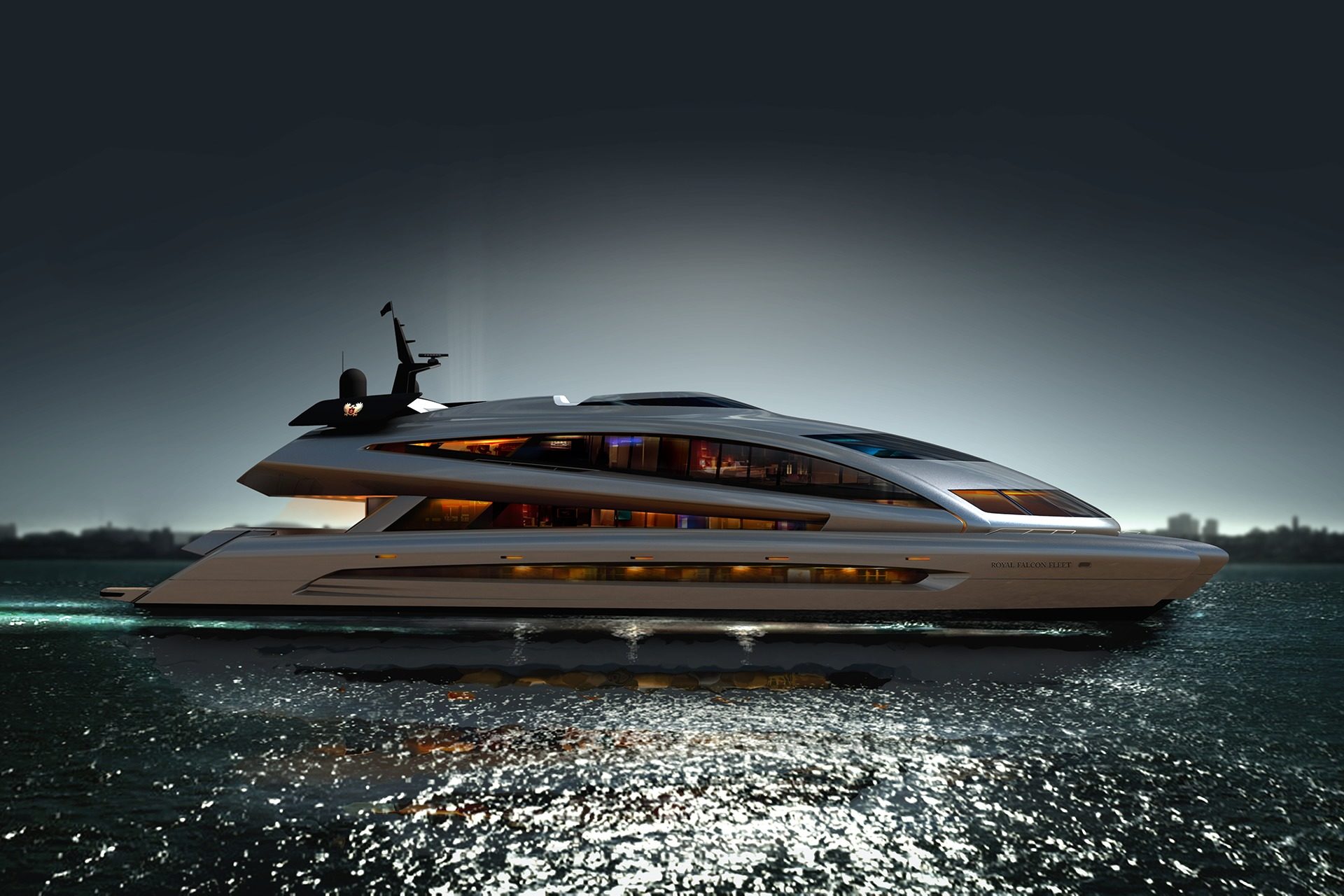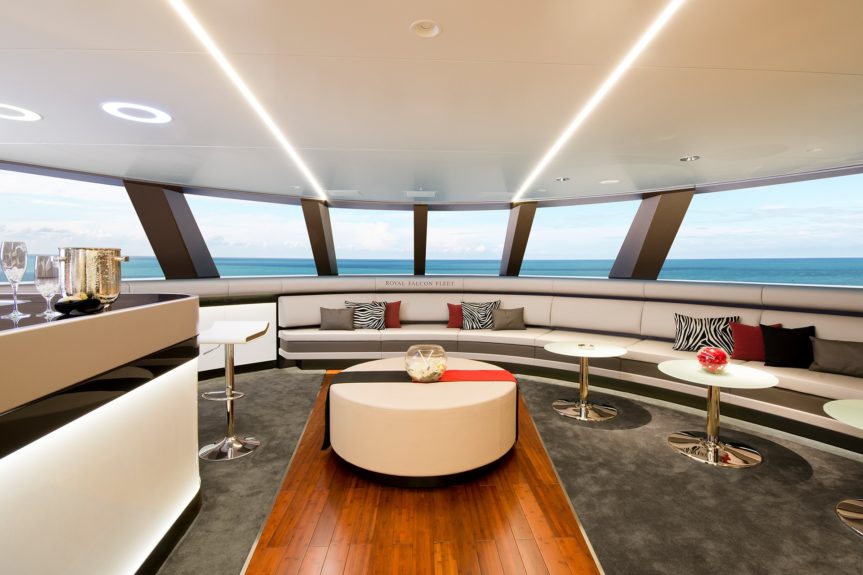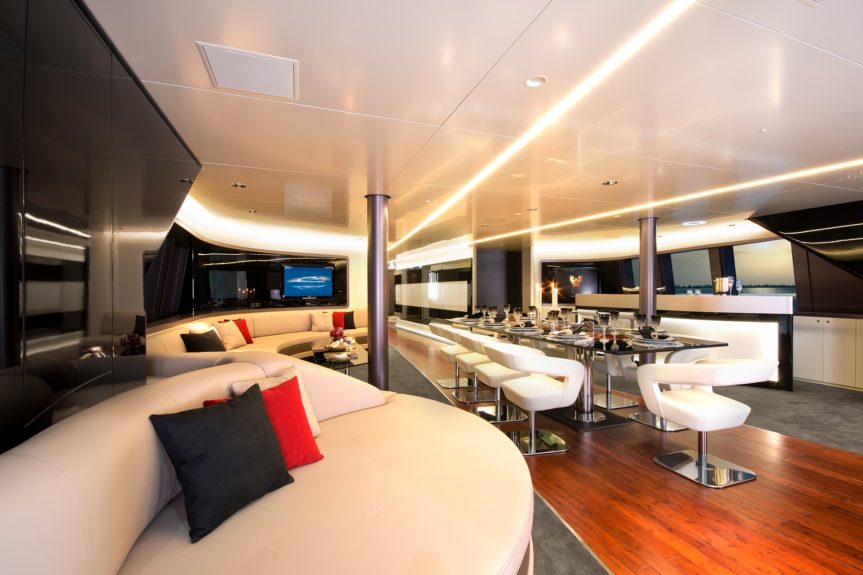 To set course for Monaco with a little more speed, we embark on the sport boat Casanova 28 designed by us for our longtime client Royal Falcon. Like a sports car on the water, the Mercury racing motor accelerates to 130 km/h and allows the luxurious boat to elegantly glide over the waves. The boat's simple, clean design, the high-quality workmanship and exquisite materials such as leather, teak wood and carbon transform the ride into a pleasure for the senses.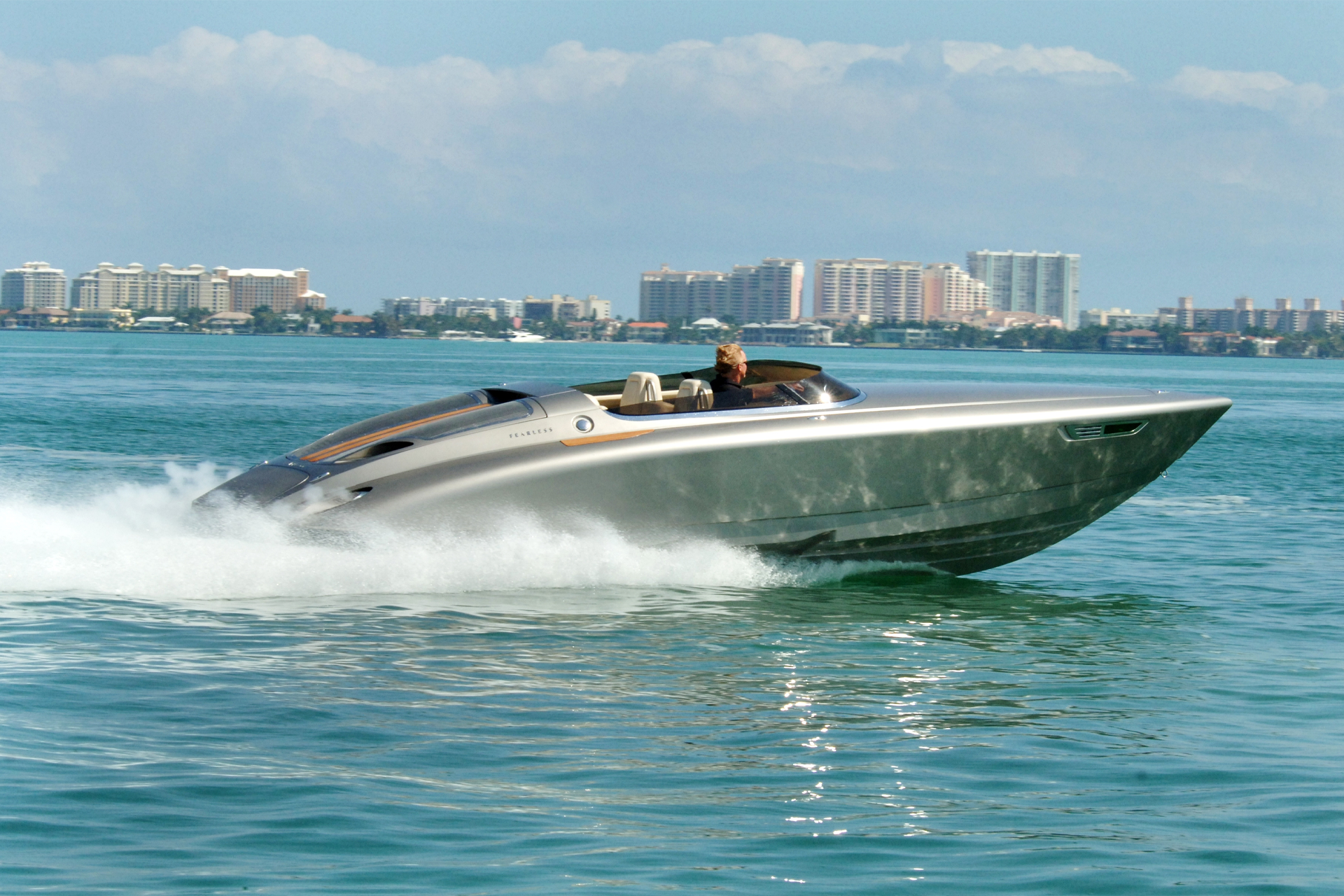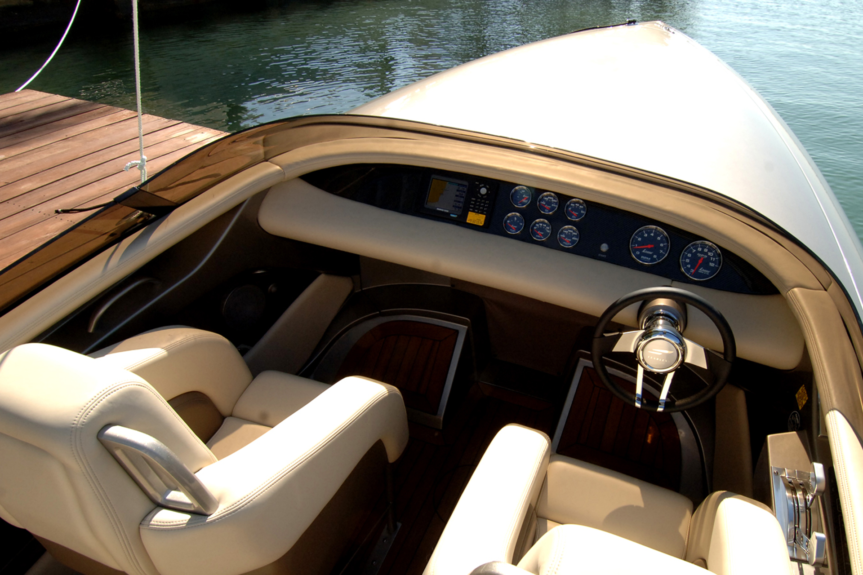 Once arrived in Monaco, a luxury super-yacht waits to cross the Atlantic. We developed the Gran Turismo Transatlantic, equipped with a hybrid system and three variable velocity generators, for the Monegasque yacht producer Dynamiq. With a total length of 35 meters, its safe and commanding presence can be felt, as well as its maneuverability as a fast yacht. In a luxurious ambiance, the journey across the ocean toward the destination port of Miami is an exceptional experience to remember.